Description
Features and Design
Tech specs at a glance
Processor:

Intel® Xeon® processor 5500 and 5600 series
Six-core Intel® Xeon®
Quad-core Intel® Xeon®
Memory:

Up to 288GB (18 DIMM slots): 1GB/2GB/4GB/8GB/16GB DDR3
Up to 1333MHz
Storage:
Hot-plug Hard Drive Options:
2.5″ SAS SSD, SATA SSD, SAS (10K, 15K), nearline SAS (7.2K), SATA (7.2K)
Maximum Internal Storage:
Up to 18TB
*
For full tech specs, 
click here
.

Purposeful, Customer-Inspired Design

The next generation Dell™ PowerEdge™ R710 is customer-inspired. By listening and focusing on the details, Dell™ has delivered on your inspiration with simplicity of operation and innovative features.

The PowerEdge™ R710 takes advantage of Dell's system commonality. When IT managers learn one system, they have learned the logic required to manage Dell's next generation servers. The logical layout of components and power supply placement delivers a simple, straightforward installation and simplified redeployment in the future.

In addition, Dell's latest PowerEdge servers provide a graphical and interactive LCD for system health monitoring, alerting and control of basic management configuration right in the front of the server. Customers have an AC power meter and ambient temperature thermometer built into the server, which they can monitor on this display without any software tools.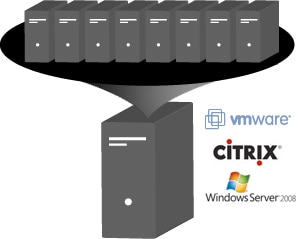 Increased Virtualization Performance
The PowerEdge™ R710 is designed with 125 percent more memory capacity and more integrated I/O than the previous generation PowerEdge™ 2950 III. This increased capacity is crucial for virtualization performance and scalability. The R710 allows for quick virtualization deployment with embedded hypervisors from leading vendors using a secure digital (SD) card or internal USB.
Intel® VT FlexMigration integrates multiple generations of Intel Xeon processor-based servers, improving flexibility and investment protection.
New Double Data Rate 3 (DDR3) memory offers higher bandwidth and lower power consumption than previous FBD or Double Data Rate (DDR2) technologies. Increased memory slots allow you to use smaller, less expensive dual in-line memory modules (DIMMs) to meet computing needs and balance cost.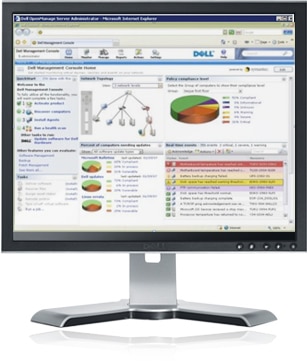 Simplified Systems Management
The next generation Dell OpenManage™ suite offers enhanced operations and standards-based commands designed to integrate with existing systems for effective control.
Lifecycle Controller is the engine for advanced systems management integrated on the server. Lifecycle Controller simplifies administrator tasks to perform a complete set of provisioning functions such as system deployment, system updates, hardware configuration and diagnostics from a single intuitive interface called Unified Server Configurator (USC) in a pre-OS environment. This eliminates the need to use and maintain multiple pieces of disparate CD/DVD media.
The new Dell™ Management Console (DMC), powered by Altiris from Symantec, delivers a single view and a common data source into the entire infrastructure. Dell Management Console is built on the Symantec™ Management Platform (formerly Altiris® Notification Server), an easily extensible, modular foundation that can provide basic hardware management or more advanced functions such as asset and security management.
Dell™ Management Console helps reduce or eliminate manual processes so less time and money are spent keeping the lights on and more time can be spent on strategic uses of technology.
The Dell™ Unified Server Configurator delivers a single access point for secure, efficient and user-friendly infrastructure management. Embedded and integrated into the system, it provides:
Quick and consistent access
Excellent flexibility
Advanced capabilities
With built-in driver installations, firmware updates, and hardware configuration and diagnostics, the USC tool is a one-stop shop for OS deployment.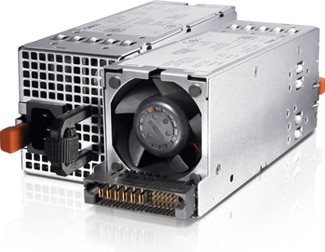 Energy-Efficient Design
The PowerEdge™ R710 features Energy Smart™ technologies that are designed to reduce power consumption while increasing performance capacity. Energy efficient design features include efficient power supply units right-sized for system requirements, innovative system-level design efficiency, policy-driven power and thermal management, and highly efficient standards-based Energy Smart components. All these elements are designed to increase energy efficiency across our latest core data center servers while delivering the performance your business requires.
Tests by Dell engineers have shown that the processors in the comparable HP DL380 can run 17% hotter than the PowerEdge™ R710 due to lower airflow, far exceeding Intel® design specifications at any room temperature.
Rack Mount Server – 3.5-Inch Chassis
Intel(R) Xeon(R) E5640 2.66GHz, 12M cache, 5.86 GT/s QPI, Turbo, HT 4C
Integrated Two Broadcom 5709C dual-port Gigabit Ethernet with TOE enabled
Riser with 2 PCIe x8 + 2 PCIe x4 Slot
4GB Memory (2x2GB), 1066MHz, Dual Ranked LV RDIMMs
1×6 Backplane for 3.5-inch Hard Drives
PERC6/I, Integrated controller card
DVD+/-RW ROM, SATA
High Output Power Supply, Redundant, 870W
iDRAC6 Express
Dell Management Console 1.0
Dell OpenManage Kit for PowerEdge R710 Server
2U Cable Management Arm
2U Sliding Rail
HDD Options (Indicated Price is Per Unit)
300GB 15K RPM SAS 3.5″ Hot Plug Hard Drive – Nrs 24000.00+13% vat
500GB 7.2K RPM SATA 3.5" Hot Plug Hard Drive –  Nrs 12000.00+ 13% vat
1TB 7.2K RPM SATA 3.5" Hot plug Hard Drive – Nrs 12500.00 + 13% vat
Additional 4gb Memory – Nrs 24000.00 + 13% vat